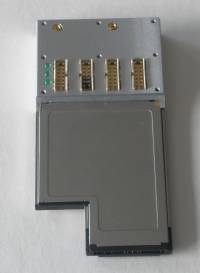 The Witch Navigator is an open source project of a GNSS software receiver able to process signals of GPS, GLONASS, Galileo, COMPASS, WAAS, EGNOS, QZSS, and others. You can
build a GNSS lab from your notebook

process new GNSS signals from various GNSS systems

implement and verify advanced signal processing algorithms

interconnect receiver cards to get a multi-frequency, multi-constellation, multi-antenna receiver

connect external sensors

connect it with signal log-and-replay unit
all with
a low-cost ExpressCard receiver

PC or notebook with a Linux kernel

free editable supporting source code.
See a presentation about the Witch Navigator or read a journal article.
The aim of this project is to develop a GNSS software receiver capable to process most of the present and future GNSS signals. The main design requirements include
high performance

low cost

free of charge development tools

dual frequency, dual antenna connector (per ExpressCard)

interconnection of several cards to get a multi-frequency, multi-system, multi-antenna receiver

connection with external sensors

connector for external frequency standard

processing of most of the GNSS signals

free software support for signal processing algorithms such as acquisition, tracking, positioning for most of the GNSS signals

user friendly programming.
The Witch Navigator is intended to be employed in the following applications:
education

research of the new GNSS signals and signal processing algorithms

science

small scale applications.
The team is expected to constantly develop new versions of the Witch Navigator. The focus will be placed on
extension of the number of correlators (larger FPGA)

interconnection of several receivers to the large multi-frequency and multi-antenna system

adding a signal log-and-replay unit (reconfigurable quadrature modulator and DAC) for generation of the GNSS signals

patches for the signal processing algorithms, including acquisition, tracking, data decoding, and positioning for new GNSS signals and systems

patches for increasing program stability, and patches for removing bugs

GPU signal acquisition, tracking and signal processing library
While releasing new versions of the Witch Navigator, the programming interface is allowed to undergo only minor changes in order to support cross-version compatibility.
Cooperation on this project is widely welcomed. The Witch Navigator project is an open source project and anybody can contribute. The comments, ideas and files can be shared via user forum. However, the most enthusiastic users may contact the project manager and become an active member regardless of the place they live at. Czech Technical University students have a chance to enroll in various projects concerning the Witch Navigator.
The license of the Witch Navigator software is the General Public License version 2 (GNU 2). This enables the users to freely download, modify and distribute the uploaded files.
HW Version
Capabilities
State
Notes
3.0
Interconnection of ExpressCards
Under construction
Maximum of 8 cards to be connected
2.0
Upgrade to QPSK Universal Correlators
Tested
2 * max. 10230 samples in a channel
Clock synthesis stability increased
1.1
Metal shield added
Released
Connector for external sensor added
Connector for interconnection of cards added
1.0
2 RF-tunable L-band channels max. 20 MHz bandwidth
Released
Direct conversion
2 8-bit dual ADCs
Each 8-bit I,Q outputs
24 E/L complex BPSK Universal Correlators
Any code max. 10230 samples
Signal capture unit
2 20-MBps samples to PC
PCI Express controler
DMA to PC, memory write to FPGA
I2C controler
Between FPGA and RF tuners
20 MHz stable quartz oscillator
Max. 1 ppm
There are few other open source GNSS projects. These include ASIC and FPGA-based correlators, (pure) software defined radio receivers, GNSS processing and simulation software, and open hardware projects. There is a link to a portal. We gather some of the useful projects into the following table.
| Project Name and Link | Description |
| --- | --- |
| The Essential GNSS Project | GNSS project in C++ |
| RTKLIB | RTK-oriented software in C |
| GNSS SDR | Global Navigation Satellite System Software Defined Receiver - Centre Tecnològic de Telecomunicacions de Catalunya (CTTC) in C++ |
| GPS ToolKit Software (GPSTk) | GPS position, velocity, time estimation software written in C++ |
| OSGRS | Open Source GNSS Reference Server (A-GPS, A-GNSS) |
| GNSS-SDR | Scilab project focused on GPS, GLONASS and COMPASS processing |
| GPS & GLONASS RX | GPS & GLONASS receiver in assembler code |
| Namuru SDR | Fully FGPA-based GNSS receiver |
| Project Name and Link | Description |
| --- | --- |
| ipexSR | RT receiver in Visual C++/Assembler, front-end + pure SDR in PC |
| SDR receiver of PLAN | RT SDR receiver |
| Precisio | SDR receiver - combined HW correlators/PC processing |